Born In East L.A. -- s/t cassette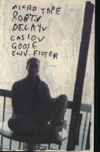 When the now-mythological free glam junta To Live And Shave In L.A. decided that it was time to hang up the spangles and close the makeup mirror for good, many of their fans, and even some of the band members past a present, brusquely grabbed the dropped torch away and proceeded to burn their own asses with it. Anyone who was a Shave fan has heard of the Shave Clone era, when little replicas of this frenzied and holy cool sleaze corporation started springing up in all parts of the country. Like "After-MASH" and "Trapper John, MD," none of the spin-offs ever captured the magic of the original, but each one probably had some choice moments, whether they were recorded or not.

I have to admit that I really didn't follow the exploits of these PRE-replicants very closely, but my impression was that each faction seemed to capture some element of the original Shave mythos. To Live and Shave In L.A. 2 made a ham-fisted grab for sheer sonic brutality, while I Live In L.A. ran straight for the audience battering, and I Love L.A. took the route of the fatherband's more detailed studio releases.

If this model holds up, then Born In East L.A. took the sound and feel of the Shave on their many deleted live tapes…bad fidelity, low turnout and unresponsive audience, and a sweet and humorous pathos in the face of chin-scratching apathy.

Starting with a blast of tape from Label Master Russ that sounds like an argument captured out a window on the streets below, SPITE label head Joel St. Germain adds the sounds of a delay pedal, a robot (?) and a Casio to the mix, UNIVAX-styled synth beeps and calculations over a rough foundation of hoarse voices and movements. It's only 10 minutes, and comes on a very low-grade 60 minute tape, allowing you to interpret the next 50 minutes of after-show drinking and carousing for yourself. The audience sounds less than enthused, but I play this at least a couple times a week.
(TS: attribution for this item has been temporarily lost - we'll track the info down and award credit where due.)